Thank you Hip Hop Amusements!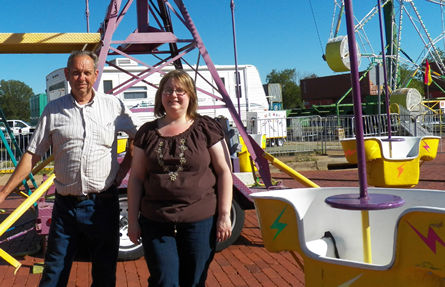 Yesterday, I had the pleasure of meeting with David and Dana from Hip Hop Amusements. Very nice people. I have wanted to talk with them for over a year now, but my schedule didn't allow for it until they invited me out to Gusher Days in Gladewater, TX.
With about 14 rides, 7 games, and 2 concession stands, Hip Hop Amusements is small but growing. Their midway was clean, and I was impressed to hear how they turn to family, neighbors, and college kids when hiring new workers. David even gave me a copy of their Safety Handbook, which outlines some good rules for their employees to go by.
One thing I noticed in the handbook that I especially like is that employees are not supposed to smoke while working. As a non-smoking parent, this is one of those small steps that makes our evening out more enjoyable.
Now for the fun part:
Rides
The selection that I saw at Gusher Days was small. And I didn't see any "thrillers". But there was something for all ages, including something I have never seen before. The "mind winder" pictured above is about like the Yo-yo / swings that I have seen at many carnivals, but instead of sitting in the standard seat suspended by chains, you are in a spinnable tub.
Other rides that caught my attention included a sizzler, their new Tilt-A-Whirl, fun house, baby Ferris wheel, an old carousel, and a beautiful little train. They assured me that there are more fun rides coming this year – I can't wait to see them!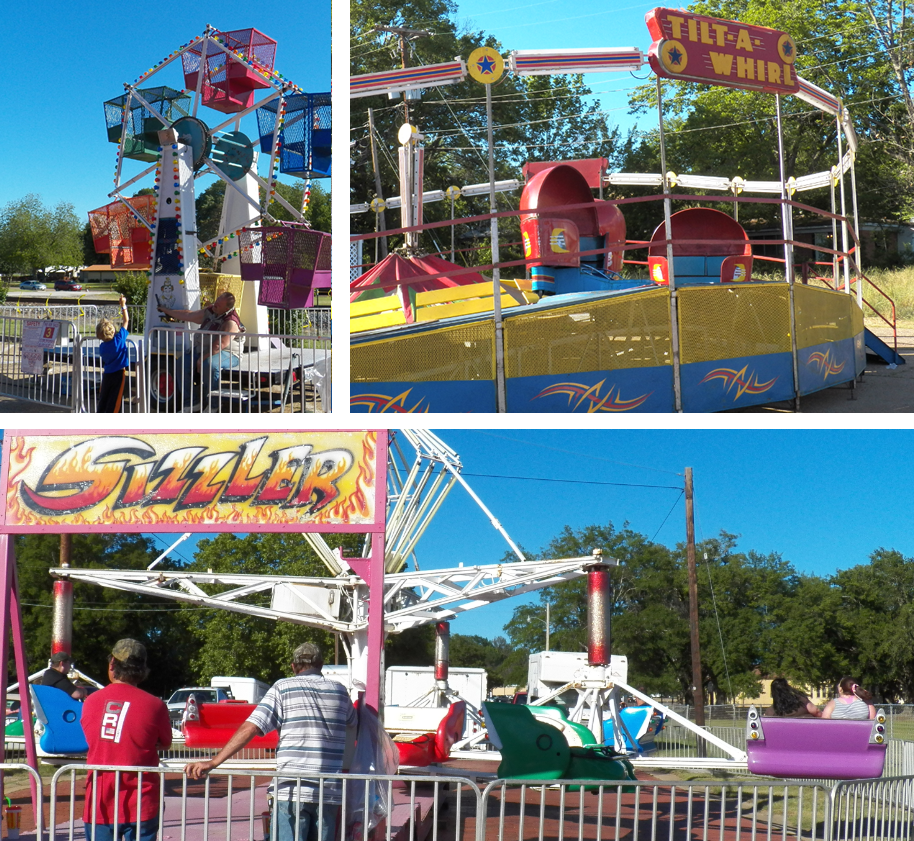 Games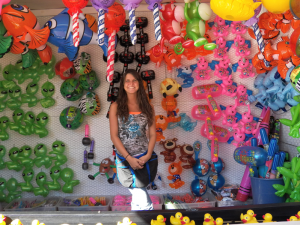 The games are my 9 year old daughter's favorite part of going to a carnival. She hung out with her dad while I spoke to David and Dana, so I didn't get to see the fun first hand. But I hear that she had a great time winning lots of blow-up toys and a stuffed banana!
Unlike what I have seen at other carnivals, the  games and prizes that I saw here were mainly geared toward little kids. – That is not to say that everything was as easy as the duck pond. They had dart games and stuff. But I didn't see any prizes that I would consider "naughty" or "adult themed."
Concessions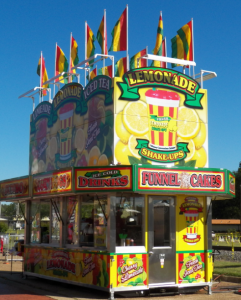 Lemonade, corndogs, funnel cakes … I didn't get to taste any of the food this time out, but it did look delicious! I did not notice any cotton candy or apples. – I hope you guys get a stand with these soon!
Thanks guys for having me out! We can't wait to come see you again.
You can find more Hip Hop pictures and info, including how to contact them for your event, on my Hip Hop Amusements page.
🙂