There is nothing quite like a night at the county fair. The entertainment, the rides, the games, the cotton candy! And if you live in Texas, you have access to some of the greatest shows on Earth! This site is being built to help you find local events to have a great time with your family and to giving you a little more insite on the carny life.
Texas Carnivals needs help!
This site is dedicated to helping you find when and where to have a great time with your friends and family! But we can't do that without information. If you know about an even in Texas that is not listed on this site, or if you have more information about something I have listed - feel free to contact me or sign up and write your own article.
Please be sure to include name, date, location, and any history, pictures, or other interesting non-copyrighted information that you have.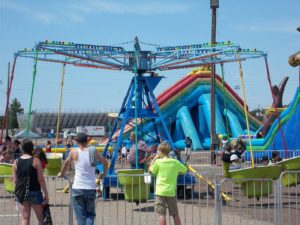 I am always eager to hear that Hip Hop Amusements is in my area. Their workers are wonderful and I love watching as they add new rides and games to their growing carnival! Today I was introduced to The Hustler, a nice new addition Hip Hop's ride selection. It spins, but it looks gentler than…
Read More